A publication of the Batish Institute of Indian Music and Fine Arts

---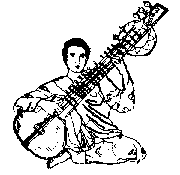 Sitar Lesson 8
Traditional and alternative sitar holding and sitting positions
by Ashwin Batish
---
Hold your sitar right!
There have been a lot of questions put to me regarding how to hold the sitar. Many of you are familiar with the half lotus sitting position. This is the position portrayed in the image to the left. This is the traditional position and probably used 99 percent of the time. So with this acceptibility level why bother. Just try your best and follow it and you are there.

Striving for the half-lotus position is your best bet. But, ever since I have been in the West I have noticed the Western student struggle. A part of me tells me to leave it at at that. After all that's the only way to get atuned to the posture, and, improvements can be made over the years .... yes you heard that right "over the years!" In Indian music terms we think of the learning process over time unlike the TV ad I recently saw that promised to teach the guitar in 10 easy lessons :) But then there is the part of me that has coached many students to break this traditional posture for one that is easier on the limbs especially if the student is handycapped. To be out of proper position means you are not going to play much sitar and eventually you will abandon it. To me that is very sad. So, I will suggest some newer approaches that I have had success with. I hope some of you will find these beneficail and hence provide you with another chance at playing this beautiful instrument

Therefore, I would like to share with you some alternate holding positions for anyone finding the traditional half-lotus position is totally impossible. Choose the one that most suits you.
The relaxed half-lotus
This is when instead of placing your sitar gourd on your left foot you drop the gourd so that it rests on the floor instead. You need to have a carpet underneath or carry a pillow so that the gourd does not get scratched.
The sideways position
This a common way recommended for women since a half-lotus position is frowned upon in India as it shows off too much. It is similar to how women were taught to ride side-saddle on a horse. You simply sit with both your legs crossed over to one side and lean with your right hand over the main gourd.
The squating lap position
Instead of the half-lotus position squat with both legs crossed. Now place the sitar over your right lap and place your right hand over the gourd to stabalize it. The problem with this position is that the sitar fretboard becomes a bit too high. This is probably best for tall people.
The standing position
This is best if you cannot sit at all. In this position you simply stand like a flamenco guitar player and place your right leg over a chair or a stool. Then place the gourd over the right leg and your right hand over the gourd to stabalize the sitar. Actually, I use this position whenever I play with a rock band and there is no where to sit. Well sometimes you have to play in tight spaces!!
The Table position
You simply place the main gourd on the table and stabalize the sitar with your right hand. Just make sure you have some sort of cushion for the gourd to rest on
The Chair position
You simply sit on the chair. Have a small 6 inch stool to place your right leg on. Then place the sitar gourd on the right leg and stabalize the sitar with your right arm over the gourd.
The lying down position
.... just kidding :) but hey I'm going to try this ....It just might work!

It is very natural for us to be ambitious and want to grasp knowledge and skills as quickly as possible so we may enjoy the fruits of our interests ASAP. This is probably the strongest part of the human programming gene. It is a good thing but remember not all skills and knowledge come instantly. There are steps to follow and blocks to build on, and, some skills are honed by practice and a lot of repetition. This is probably the biggest secret for learing music. As the famous saying goes...... "to be great, it takes 99% perspiration and 1 % genious!" That means practice! This practice applies to your siting position and your hand positions and your playing etc.

Many of you are familiar with yoga. This will help you sustain the position longer.
---

I have created a couple of new instructional videos that walk you through some of this process. Video #1 is titled "Changing Your Sitar Strings" and Video #2 is titled "Tweaking Your Sitar" they are the first two in a 3 part series on Maintaining your sitar's peak performance.

Two Tutors for learning the sitars are also available "Introduction to Sitar" and "Beginning Sitar Exercises". Please visit the above links for more information.
---
Other Issues:
email: info [at] batish.com copyright ©1995 - 2003 Batish Institute. All rights reserved. Intended For Personal Use Only. No part of the information here may be reproduced or utilized in any form or by any means, electronic or mechanical, including photocopying and recording, or by any information and storage retrieval system, without specific written permission from the Batish family.