A publication of the Batish Institute of Indian Music and Fine Arts
---
Musical Instruments of India Series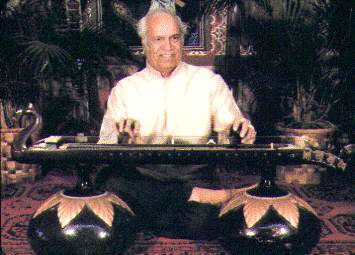 The Vichitra Veena
Other Spellings: Vichiter Veena
by Ashwin Batish
Left: S. D. Batish playing his Vichitra Veena
The Batish Connection
My earliest recollections of this instrument are when I was very very young :) my father used to practice this wonderful instrument in the early hours of the morning, at our home in Santa Cruz, Bombay, India. Waking up to this majestic sound in the peace and quiet gave me a special reverence for this instrument's tone. Its texture and timbre is unlike any other.
He has been playing it since 1945/1946. He purchased it (the same one pictured above) from Mr. Mohamad Sharrif of Poonchwala, a Kashmiri State. Mr. Sharrif had just bought a new one so he sold his to my dad. My father recalls that this was probably Sharrifs' dad's veena. My father paid 150 Rupees which today translates to about $4 :) Neat! Today ofcourse this instrument is about $2500.00 for a really good one! I guess it's still cheap according to how expensive Western Instruments are. A friend of mine (a concert cellist) just paid $2500.00 for his bow!
Abdul Aziz Khan, Mohamad Razza of All India Radio, and Mohamad Sharrif of Lahore are some of the artists my father mentions as having heard play this instrument. It is quite a difficult one to master. One noteworthy episode is mentioned by my father of a very good Sarangi player (he couldn't recall his name) of All India Radio, Bombay, whose one wish was to master the vichitra veena. But his attempts fell short of his own expectations and he would frequently, and with a sad heart, confide in dad on how, even after practicing very hard, he was unable to play it in good intonation. My father recalls that he used to perform it fairly well on the radio, but he never seemed satisfied with his own recital despite bravos and praises from everyone. Once, after he came out of the broadcast studio, he knew where he had missed and he cursed himself saying that "no matter how much we praise him he cannot master the instrument". Despite his humble attitude, my father recalls him to be a very good player.
So future vichitra veena enthusiasts beware. This instrument is not for the weak. It is said that in order to play this successfully one has to have a solid knowledge of the raga, maturity, experience in playing other instruments like the violin, sitar, dilruba and as many styles of vocal singing as one can master.
Today, not too many people play the Vichitra Veena. My father is probably the only one I can think of. BTW, he has recently finished recording the 72 Melakartas of Carnatic music on it. I will be working on releasing these in the near future. He is also working on a Vichitra Veena instruction video that is soon to be released.
If you've seen the Beatles movie "Help" then you've heard the Vichitra Veena. My father was invited to play it in the sound track. Click here to read up on that!
Other Issues:

Please Note: All content is copyright ©2003 Ashwin Batish. All rights reserved. Unauthorized copying, photocopying, transmitting this document on hard paper or electronically or by any other means is strictly prohibited and unlawful. You have our permission to link to this page.

---
email: info [at] batish.com copyright ©1995 - 2003 Batish Institute. All rights reserved. Intended For Personal Use Only. No part of the information here may be reproduced or utilized in any form or by any means, electronic or mechanical, including photocopying and recording, or by any information and storage retrieval system, without specific written permission from the Batish family.