A publication of the Batish Institute of Indian Music and Fine Arts
---
Talat Mahmood
The Golden Years with my Friends and Colleagues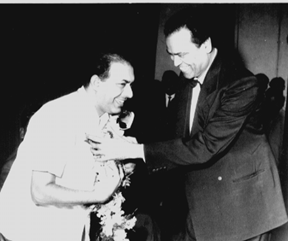 S. D. Batish presents a garland to his musical guest, Talat Mahmood at a gala inaugral organized by the Sangeet Sangam Academy in Bombay, India
As far as I remember, I met Talat after the partition of 1947.
Most of his early hit songs were released, probably from the Calcutta studios of HMV. Amongst his numerous memorable, and well rendered songs, one that comes to my mind is "Tasveer teri dil mera behlaa na sakegi".
After his emigrating to Bombay, he became a favorite among the social elite of this cosmopolitan city. This was the venue where we had this mutually pleasant chance of meeting each other.
It has been my observation that artists that have acquired some fame in their profession, some hit songs to their credit, somehow have this clairvoyant sort of friendship that starts existing by virtue of a mutual appreciation of each others attributes and achievements. Their credits and their fame, builds within them a kind of acknowlegement that gets nourishment through mutual acquaintances. When the time comes that they meet (something that is bound to happen sooner or later - in the circles they frequent - when they face each other on some occasion like a concert, social meeting, or even while travelling on the a same train), it seems as if they already know each other from ages past. And that can be incredible. The feeling of excitement and happiness seems to stop time.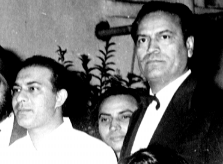 That was how I felt when I had the pleasure of meeting Talat Mahmood. There was a celebration organized by the Murphy Radio company. The managing director of this big and famous radio dealership in Bombay, was Surendar Agnihotri, who, to my surprise, happened to be none other than the younger brother of one of my great friends in Lahore, Mr. Jagdishrai Agnihotri, Registerar at Punjab University, Lahore. Surendar was studing in college and staying with his elder brother.
These were also the days when production of the famous Panjabi film "Gowandhi" was underway (1942). I was accompanying Pandit Amarnath, the music director incharge and composer for the His Master's Voice studios in Delhi. I was the lead singer (one of the songs I rendered was "Pagadi sambhal jatta". This was a very big hit back then).
While in Bombay, I would visit Surendar often. He was now the Managing director of Murphy. In the short time since his arrival, his ever smiling and friendly nature had gained him friendship and contacts in the whole film industry. Jagdish Rai, a relative of one of the producers of Gowandi, was also in Bombay and we became good friends.
Coming back, Surendar invited me to this celebration and introduced me to Talat. From here, with our common interests in the same vocation, we hit it off. It was as if we had already met before.
We met again on many occasions. His singing style made him popular among his multitude of fans and admirers. It also was a source of great attraction and interest to the music directors and composers in the film industry. I and many other music directors, have had the pleasure of specially composing songs for him. My good friend and colleague, the late Sajjad Hussain, gave Talat, a song which became a huge hit, perhaps some of your Talat fans might remember the song "Yeh hawaa yeh raat, yeh chaandni".
Once Talat invited me to his apartment in Khar, a suburb near Bandra, Bombay. He was living on the third floor of a huge building. He had a very nice little apartment, which was kept scruplously clean and tidy. There were some fabulous pieces of furniture and curios which decorated and beautified the environment. I have had the honor of meeting his godess like wife and his little boy, and was extremely pleased with their sweet and homely nature.
When I was the music director for the film "Haar Jeet" produced by Film Craft pictures whose owner was Mr. G.A. Thakur, I specially composed a song for Talat that became quite a big hit - "Khaamosh hain sitaare, aur raat ro rahi hai".
Since my exit from India, I have had very little contact with the Bombay film industry. But I have heard that these days, Talat Mahmood is doing a show as an introduser of artists and personalities Door Darshan Television in Bombay. Perhaps some one can email in and let us know the status of this great personality.
I wish him and his family good luck and the very best of prosperity!
---
Watch for more article in the series The Golden Years with my Friends and Colleagues by S. D. Batish. These articles are excerpts for an upcoming autobiography being written by Pt. Shiv Dayal Batish of his life and times in the Indian film industry from 1936 to Present.
---
Issues:

Please Note: All content is copyright ©2003 Ashwin Batish. All rights reserved. Unauthorized copying, photocopying, transmitting this document on hard paper or electronically or by any other means is strictly prohibited and unlawful. You have our permission to link to this page.

---
email: info [at] batish.com copyright ©1995 - 2003 Batish Institute. All rights reserved. Intended For Personal Use Only. No part of the information here may be reproduced or utilized in any form or by any means, electronic or mechanical, including photocopying and recording, or by any information and storage retrieval system, without specific written permission from the Batish family.