A publication of the Batish Institute of Indian Music and Fine Arts
Sitar Lesson 4
Sitar Tuning
by Ashwin Batish
---
Here is a standard chart to tune your sitar by. This sitar has the usual 7 main strings and 13 sympathetic strings. Many of you will probably have one with 11 strings. In that case just tune your sympathetic strings to the first 11 strings shown.

I prefer this tuning, although I have another sitar loaded with the low bass Sa string that gives me that extra bass veena range on the sitar. I like to dabble on this especially in classical performances and recordings. It is a great space for doing alaaps with the slow deep meditative expressiveness.

To make this tuning compitible with Ravi Shankarji's sitar, you simply need to change the number 4 string to our #4 bass bronze string cat# BRSIT4BS and tune it to low Sa, 2 octaves below middle C (or 1 octave below the #2 Sa string).

The problem I have with this tuning in my regular approach to the sitar is that if I leave this string open it rattles like crazy and drives me crazy along with it. The traditional solution is to creat a small wire hook and attach it to a fret and then hook this sitar string under it when you are done playing on it. This gets the string out of the way. But now the problem is you have to tune this new hooked string to a note that fits the raga. So a tonic, 3rd, 4th, 5th 6th, are all possible contenders but a point to remember is that therewill be two notes on either side of the hook. So they have to be in good intonation on both sides of the hook as it might resonate sympathetically when you are playing the sitar. A set of bad notes will resonate especially when you pull meends. The other irritant is that although the hook will pull the string down somewhat and move it out of the way, it usually still gets struck while doing chikari and I personally like my chikari sound to include bronze Sa wire tone.

After all this, if you decide to have the bass sa string in your sitar, and you make a hook etc, you will do well to practice your chikari with great patience and precission so your accuracy keeps this string mostly out of the fast chikari playing. New sitar students would also do well to stay away from the bass string until they have some experience under their belt. The meend work requires good understanding of the raga ornamentations and structure.

It is really important that you have tuning beads on the first five main strings. The chikari strings number 6 and 7 don't need them. You can use any plastic bead or if you want to get fancy use the decorative swan tuners. These are available from the Institute. Call or email for more details.

The thing to remember is to have different types of tuning beads on each string so that you can recognize the string being tuned by the touch of your fingers. When playing in a concert situation, you want to be able to tune your sitar without putting it down on the floor. It is visually disturbing and is not as accurate as tuning the sitar in the playing position. Tuning beads help do this in an elegant and accurate way. Many sitars when sold new have these beads on only a couple of strings. So invest in a few extra. You'll be glad you did :-)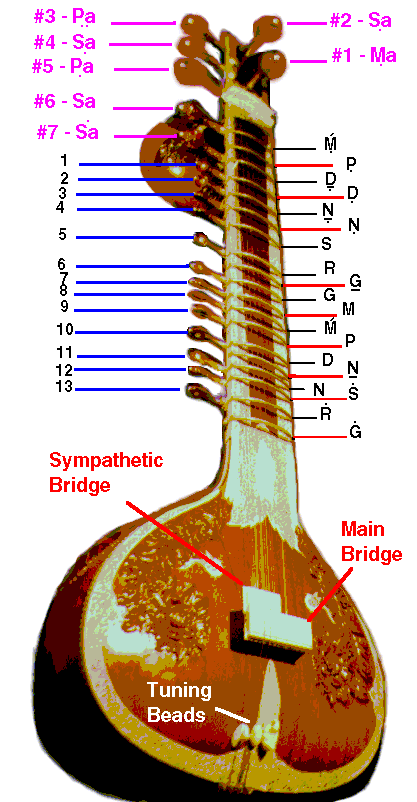 In the last lesson, I left off at tuning the top 7 string of the sitar. Now let's look at the sympathetic string tuning. We call these "tarab" strings. They are tuned to the raga you are playing.
As mentioned above, the total number of tarab string on a sitar can vary from eleven (most common) to thirteen. I have two sitars and one has the 11, the other has 13 (shown above). My observation has been that the sitars made in Banaras, Miraj, Bombay, and Delhi area have 11 tarab strings and the ones coming from Bengal, especially Calcutta, have thirteen.
My favorite way to tune these in the Bilaval raga is as follows:

For Bhoopali raga given in the earlier lesson I like to tune my tarab strings like this

As you can see, there can be many variations to this. The important thing to remember is that your strings should be in perfect intonation. This ensures a reverberant resonance when you play on the top strings.
To many of you tarab string tuning might seem like a useless task. It seems like all your time gets sucked up on tuning! For a while, when I started to grapple with tarab tuning (I was about 14 years old then :-) I felt it was such a waste of time. Ofcourse I could never get them right! Somebody's playing a sick joke on me.... I thought. So I can imagine that many of you are probably frustated with getting these strings in tune. Keeping them in tune can seem like an endless chore.
Well relax! This is natural. As a matter of fact, to make sure you practice playing your sitar more than you spend time tuning it, the traditional way is to have a sitar student buy a sitar without sympathetic strings. Some teacher might even recommend removing or muting them in the initial stages of your study. This then keeps the students mind on practice and gradually, as you start getting used to the instrument and gain practice with the upper strings, you can start delving into the sympathetic tuning.
Having said that, let me just say that the sympathetic bridge should be properly set and its "Jawari" (tone) should be carefully adjusted for optimum resonance. This can be an involved and tricky proceedure so consult a Jawari expert if you have access to one. Good Jawariwalas are hard to come by. I remember my father hiring one, in Bombay, to come and work on the Jawari of his "Vichitra Veena". That guy was at our house for almost 5 hours! We fed him dinner gave him umteen cups of chai. When he left the bone on dads' bridge was all bumpy and about half the thickness and the Veena sounded horrible.... and this guy came recommended! Dad was furious. After that day he has never let anyone come near the Jawari of any of his stringed instruments. He basically learned to work on them himself.
Being his trusted sidekick, I was often given the task of filing the bridge flat. Through use, the strings will cut into the bone and you have to grind this out.
I was happy to oblige. This also gave me some insights about how to optimize the Jawari for resonance. I will deal with this in another article. But let me just say that I have gone through a few bridges in my time. Sitar, Veena, Tanpura, Dilruba.... I learned to set all of these. The basic principle is the same.
But chances are that you have an instrument that will not need Jawari work immediately. Especially if you got the sitar new. Both your main and the sympathetic bridges should be in good playing condition.
Now here's a little plug for our
Learn to play the sitar at home!
Ashwin Batish teaches sitar by video. Two videos are now ready. Each is about an hour long. The first is titled "Introduction to Sitar" the second is titled "Begining Sitar Exercises." More tutor videos are on the way.
---