A publication of the Batish Institute of Indian Music and Fine Arts
---
Mohamad Rafi
The Golden Years with my Friends and Colleagues
---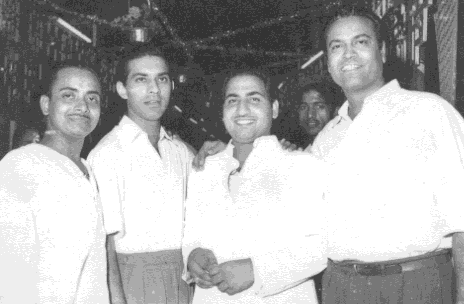 Pictured from left to right
Mr. Roy - Mr. Talat Mahmood - Mr. Mohamad Rafi - Mr. S. D. Batish

Although I cannot recollect whether I saw Mohamad Rafi in Lahore between 1942-45, he did tell me that he saw me at the top of my career as a playback singer in the Lahore film industry. He also told me that during this period, he was singing with chorus groups for a few films.
Our first full fledged meeting probably happened when the late Mr. Ghulam Haider, the famous music director of the "Jain-O-Phone" record producing company of Lahore and many Punjabi and Hindi films, had emigrated to Bombay. Due to his great friendship with Pandit Amarnath, I also got to know him well and this served as a continuity of friendship and regard between us.
Since Mr. Haider was in a bigger "Indian music trade" environment, he easily got assignments for music direction. I remember, he had had an operation on his nose when I went to see him at the Ritz Hotel near Regal Cinema, Bombay. After a happy revival and talk about Pandit Amarnathji and family, Mr. Haider invited me to attend a rehearsal at the Kardar Studios in Parel, that same evening.
I reached Kardar Studios at the appointed time. There were quite a few singers assembled for rehearsals. Mr. Rafi was one of the group. I think this was the moment when we were introduced by other group members. Mr. Rafi was quick to remind me of his past recollections. His extremely humble way of showing respect for my seniority, before all gathered, left an impression of utmost respect and regard in my mind.
Time went by, and Mr. Rafi, with his, ever flexible good voice and sensitively flexible behavior, did not waste much time, in becoming the favorite playback singer of the film industry. It had been observed that he would not disappoint any film producer or music director who would invite him to sing. Whether he could pay or not. This created no problem for the generous Mr. Rafi. At the appointed time, the song would be recorded to the satisfaction of the music director.
The paucity of funds in the film projects is a well established fact - it still is! It has been observed, with some exceptions, that the majority of film producers are fortune hunters. As such, hunting for money to produce a project, without a personal investment, invariably proves to be a hard nut to chew. And talking about chewing, the chances of loosing quite a bit of one's original teeth, is quite the norm.
In such circumstances, a fortune hunter/film producer, keeps taking chances, hoping for a jackpot. More often than not, he somehow succeeds in completing the production. The distributor releases his contractual amount of money, upon receipt of the finished product. This money is finally distributed among those who had cooperated in the project. This huge network of open marketeers is a never ending thing. Fortunately for all those who have survived in the business till now, the process is still alive and well. The artists, in order to secure more business and survive, have to yield to such cooperative agreements and often find themselves working for little or no pay.
Mohamad Rafi was no exception to such wheeling and dealing. On the contrary, he understood the chemistry of this business so much so that he proved himself to be the most successful businessman/playback singer of the century.
Our friendly associations on several recording projects, like the Barsaat Ki Raat Qawali by Roshan, "Andher nagari chaupat raja", and ofcource my old friend O.P. Nayyar's Qawali "Ham ne un ke saamne pehle to khanjar rakh diyaa", were very enjoyable and memorable.
While working in Filmistan, I gave music in about six films. Rafi sang the main songs in all of them, including the memorable duet we sang in "Chand Ki Duniya" called "Hoke rocket pe sawaar, aayaa aaj teraa dildaar".
By nature, Rafi was very careful when it came to his voice. He was always on the guard, even when it came to taking tea or any eatables. He would be in fear of somehow being a victim in a web of jealousy and be intentionally poisoned. This paranoa might have some truth to it although I was not particularly touched by such a situation, and thank god for that. But I am proud to state, that he made me an exception. Whenever he came to my house at Juhu for rehearsals, he would gladly take tea from my cup. Likewise, while at his house, he would first pour tea in his own plate and then offer me the other half from his own cup. Such good feelings are difficult to forget!
---
Watch for more article in the series The Golden Years - My Friends and Colleagues by S. D. Batish. These articles are excerpts for an upcoming autobiography being written by Pt. Shiv Dayal Batish of his life and times in the Indian film industry from 1936 to Present.
---
Issues:

Please Note: All content is copyright ©2003 Ashwin Batish. All rights reserved. Unauthorized copying, photocopying, transmitting this document on hard paper or electronically or by any other means is strictly prohibited and unlawful. You have our permission to link to this page.

---
email: info [at] batish.com copyright ©1995 - 2003 Batish Institute. All rights reserved. Intended For Personal Use Only. No part of the information here may be reproduced or utilized in any form or by any means, electronic or mechanical, including photocopying and recording, or by any information and storage retrieval system, without specific written permission from the Batish family.