Sitar
Accessories
for kids

A publication of the Batish Institute of Indian Music and Fine Arts
---
Sitar Lesson #2
Sitar buying tips and repair of your Sitar or Tanpura gourd
by Ashwin Batish
---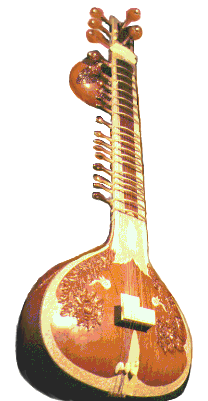 In the last lesson I talked about what to look for when buying a sitar. There are a few more points I'd like to cover on that subject. But first I'd like to thank everyone that email, called, wrote to me about how much you are enjoying RagaNet and these lessons. I also had some special requests to write on specific topics. One such email was from a person who had an unfortunate mishap. The gourd on his sitar broke during shipment from India. Knowing there are many others in the same predicament, I have decided to do a little writeup on how to go about fixing broken gourds. So here goes.....
What is a gourd?
Gourd is of the pumpkin family. In India they are grown especially for musical instruments such as the sitar, tanpura, veena, ektara etc. They are light and form a natural resonance chamber. They can be cultured to grow symetrically although perfection in roundness is rare but possible. Interestingly, I've heard that when the gourd gets to a certain size, the growers will dig a round hole in the ground and the gourd will be put inside the dirt hole and it then grows to the size and shape of the dirt hole.
As the gourd matures it is dried out and the seeds are removed. The inside is cleaned and it is ready for use. The outside shell now is quite hard. Some instruments as the veena use the whole gourd whereas the sitar, tanpura, ektara will be designed around a chopped half section (see illustration above).
A gourd can look deceptively sturdy. A majority of them sustain damage during shipment. Sometimes I think that alone can keep the sitar industry from going bankrupt. Other mishaps happen due to improper storage. Some people will damage it when trying to stand the sitar up vertically on its gourd and walking away from it to have a cup of chai and a person walking by will accidently knock it down. Many a time I have seen instruments roll off the stage and fall to the floor. I had an instance where one of my students used to carry his sitar to lessons in a bus. Once he accidently knocked a hole in the gourd while trying to get out of the bus. The moral of this story? ..... have a carrying case for your instrument!
Here are some questions to ask yourself when embarking on a gourd repair