A publication of the Batish Institute of Indian Music and Fine Arts
Sitar Lesson 1
by Ashwin Batish
Learn to play the sitar with these online sitar tutorials. written and published by sitar master Ashwin Batish. This first article covers sitar buying tips. Updated 8/20/2003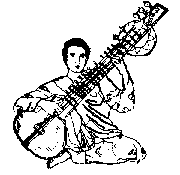 Sitar Buying Tips
So you have your mind set to learning Indian music on this exotic, dreamy, hypnotic, and most beautifully ornate instrument...... the sitar! .... bravo! you've made a good choice! Next to the tabla, the sitar is probably one the most familiar instrument that people in the world talk about when it comes to the music of India. It is played in the North Indian classical tradition although today It has managed to find a nice niche in Indian film and folk music. It is primarily a solo instrument but it is often seen played in classical duet setting called jugalbandi.

Before you get too excited and jump head over heals over this .....

You first have to own one. So I'm going to deal with that aspect and make you aware of the pitfalls before you lay down your hard earned cash. Just remember that "looks can be deceiving" so tread carefully. Here are some of the pitfalls you should be aware of when trying to buy a sitar.

Owning a sitar is a life's dream of many a student and I have seen quite a few. They usually come up to me on the first day, eyes sparkling, enthusiasm pouring, a wicked smile on their faces... "I just picked this sitar up yesterday from the flea market.... man, I've wanted to own one of these for the last 20 years!.... And now I have it" You can almost sense the joy and satisfaction this new ownership has brought for this lucky sitar player to be.

As the instrument is handed to me, there is a moment of silence and as much as I hate to do it, I invariably find myself giving them the bad news. I want you to avoid this sort of gut wrenching so let me show you what to look for in purchasing a sitar.It is very rare that an instrument picked up in the flea market will be in perfect condition. Even ones that are new from reputable stores will generally need a lot of work before they can be ready for play. Playing a sitar is not just taking a few notes out. I'm talking about having that baby fine tuned so it does not hinder your learning ability.
Problems to watchout for when Buying your Sitar
Cracks Anyone?
1. This is one of the most important checks you can do before you buy a sitar. Some cracks are very hard to locate. The obvious ones are on the gourd. These too are very hard to detect sometimes. Always look under bright lights. Preferably daylight. Usually, if you squeeze gently on the sitar's gourd with both your hands any movements due to a crack on the gourd will quickly show up. If there is a crack in the gourd, and the price is cheap enough, it might be OK to buy it. Gourds are fixable. I'll tackle that in the following lessons. But buy it knowing what you're getting into. If you send out for this work expect to pay between $150 - $250 to fix it to specification. That includes the final stain and varnish to make the gourd look like new again.
2. But here's something to really watch out for - cracks around the holes that house the sitar pegs. These crack are usually found on the seven main sitar pegs. The obvious test for these is if the peg slips while tuning. It will not hold tension. If you try to push the peg in as you tighten it, the crack becomes visible. This my friends is the worst case scenario. Avoid this sitar. It's too much of a headache to fix.
3. The sitar peg itself might be cracked. This happens a lot. The peg looks good from the outside. It is locked in and even holds the string in place. But if you were to pull it out of its hole, It's broken in two! This usually happens when someone new to the sitar and with strength to spare twists the peg really hard into its hole and by doing so regularly during each tuning sessions, literally shatters the peg shaft. This happens if the peg is not seated properly at its points of contact. The tip of the peg makes a strong contact, but the top half of the shaft has a weak grip hence creating a shearing force when the peg is twisted resulting in the shaft shattering. Look for this on all seven pegs for the top seven playing strings. Any one of them could be broken. If the seller allows it, remove each peg from its hole and visually check it. This might cause the whole sitar to go out of tune ... and some sellers will not appreciate this. :-(
4. Another possible crack that can occur is where the sitar face joins the fretboard. This section is about where the last fret of the sitar is located (close to the bridge). This is a very serious problem. This fracture usually happens if the sitar tips and falls. Usually the sitar is leaning against a table or chair etc. and it slips. These are very difficult to verify. As the sitar will still work. But if you were to remove all the tension from the sitar strings, the joint where the fretboard and the face of the sitar come together will visibly move when pressure is applied to both parts.
Upcoming Sitar Lessons
Sitar Frets
Proper Sitar Strings
Main Sitar Bridge
Sitar Chikari Bridge
Sitar Tuning


And much more!
So come on back.....
Issues: